2015 State Championships.
There were awesome crowds at the 2015 State Championships. Thank you to everyone who came. It was great to see the Drum Major Flourish element back, and PLC Sydney and Scotch College competing in the Juvenile Grade. Results were: Scotch College 1st, Juvenile. Perth Metro 1st, Grade 3. Perth Highland and City of Cockburn tied (Cockburn announced winners) but Perth Highland later awarded 1st on MSR Ensemble preference. Master sheet available here. Thank you to all the bands, judges, marshals, organisers, helpers, stalls and, of course, our enthusiastic audience.
---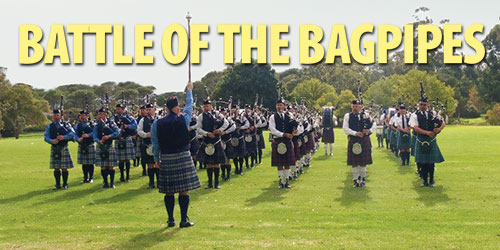 2015 State Band Championships at Easter.
For a second year in a row, pipe bands will converge on Curtin University for the State Cmampionships. In 2015 Pipe Bands WA also welcomes Juvenile competitors Scotch College Pipe Band (Perth) and PLC Pipes and Drums (Sydney).
Date: Easter Monday 6 April 2015
Time: 9.00am - 4.00pm
Venue: Edinburgh Oval South, Curtin University
Let us know you're coming! RSVP on Facebook.
Enjoy the food and market stalls, and pop into the Scottish Masonic Bar during the afternoon. Note: Curtin Stadium is a smoke-free venue.
---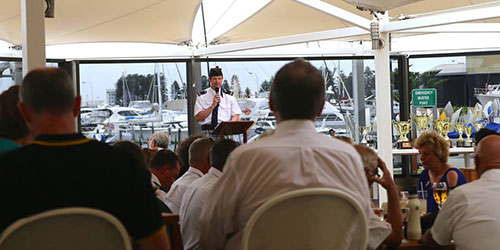 2015 Fremantle Highland Championships.
The Fremantle Highland Championships were held at Fremantle Sailing Club on Saturday March 14. Congratulations to Coastal Scottish, winners in Grade 3, Kalamunda District, winners in Grade 4, and to all bands who competed. Well done to Fremantle Sailing Club, Stuart Bradford, and all the Pipe Bands WA judges and helpers for putting on another successful contest. The full master sheet of the band and solo contests can be viewed by clicking here.
---
2014 State Solo results.
The State Solos this year was held at Trinity College on Saturday July 19. Congratulations to all the competitors and thank you to all the judges, organisers and spectators for making it a great day.
To see the master sheet results of the day, click on the CONTEST RESULTS link to the left here, or CLICK HERE.
---
Kalamunda Ceilidh.

Dust off your dancing shoes, it's Ceilidh time again! Entertainment includes dancing to the Heel n Toe Ceilidh Band (don't worry - dances are "called" so you don't have to know anything in advance) and performances by the pipe band, plus some other Scottish delights! A licenced bar means no BYO booze please (this is a fund-raiser after all!). Platters and snacks will be available for purchase.

Raffle prizes this year are cash to the value of $300, $150 and $50. Tickets will be available shortly - purchase tickets either by contacting your nearest KDPB band member, or call 0437 992600.

Date: Saturday 19th July 2014.
Time: 7-11pm.
Venue: Kalamunda Performing Arts Centre/Agricultural Hall, 48 Canning Road, Kalamunda.
Tickets and further info: Tom 0437 992600.
---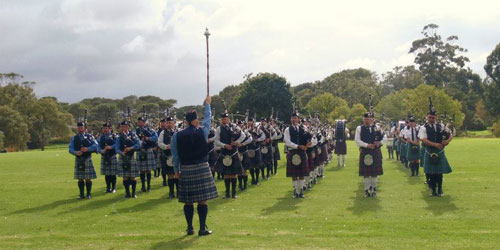 Pipe Bands WA State Championships.
29 March 2014
It was a great day at the Pipe Bands WA State Championships last Saturday. Slightly overcast and a little cool, Edinburgh Oval at Curtin University turned on weather more like Edinburgh, Scotland. Luckily, the rain stayed away.
Some great photos of the day can be see on the WAPOL Supporters Facebook page by clicking here.
Congratulations to the winning bands:
Western Australia Police Pipe Band 1st in Grade One
Perth Metro Pipe Band 1st in Grade Three
Perth Highland Pipe Band 1st in Grade Four.
---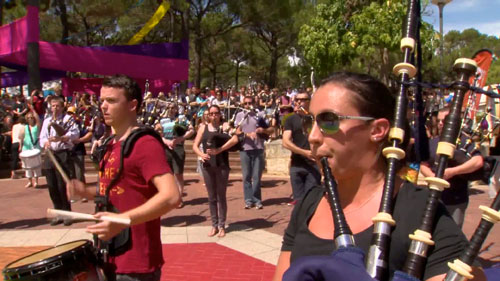 Pipe Bands WA flash mob at Curtin Uni.

Pipe Bands WA staged a surprise flash mob stunt at Curtin University as a novel way to publicise its upcoming State Championships. Students were curious to watch a lone drummer walk out onto the courtyard near the library building, and then a little astonished when a young female student picked up bagpipes to play along.  But when seven separate pipe bands started marching from different directions of the campus, the whole university suddenly became engaged.
The 45 pipers and drummers kept in perfect sync playing the tune Highland Cathedral, and formed a giant crescent shape to entertain the gathered crowd.
Curtin University regularly hosts events and place activations to enrich the student experience on campus, including surprise food trucks and entertainment.
The flash mob video will be used on social media to spread the news that the State Pipe Band Championships are from noon to 4pm on Saturday, March 29, at Edinburgh Oval at the entrance to Curtin University. 

The YouTube video can be seen at http://youtu.be/CtksAvk6myU
---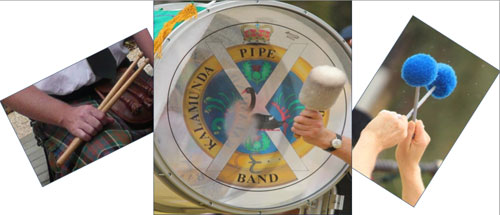 Learn to play drums with
Kalamunda District Pipe Band.
The Kalamunda band is looking for new drummers, both learners and experienced. Top grade lessons are provided free on Bass, Tenor and Snare drumming.
Sessions are on Tuesday evenings, 7-9pm at Gooseberry Hill Hall, Ledger Road, Gooseberry Hill. For more information contact Sue on 0415 713074 or Gareth on 0403 320450. Visit www.kalamundapipeband.com
---
Keith Allan attends Summer School.
January 2014
Pipe Bands WA funded a scholarship for piper Keith Allan to attend the APBA summer school in Sydney for one week in January. (That's Keith in the red shirt, front row.) The school was an incredible opportunity to study with tutors from around the world, including Richard Parkes, Pipe Major of the current Grade 1 world champion band, Field Marshall Montgomery. Keith has written a short blog to share the experience with Pipe Bands WA members.
Read Keith's Summer School blog by clicking here.
---
Piobaireachd Appreciation Group.
12 January 2014
The Piping Society of WA always encourages pipers to come along and play at our regular meetings on the third Saturday each month. We are aware that there are now more Piobaireachd players than ever before in WA who compete at a high level. Aiton Sheppard has offered to be the Convenor of a Piobaireachd Appreciation Group under the wing of the Piping Society of WA.
Contacted Aiton on 9301 0926 or mobile 0471 097 687 if you are interested in playing or learning piobaireachd. You are welcome to contact him or come along to the Inglewood Seniors Centre at the corner of Beaufort Street and Tenth Avenue, Inglewood from 7.30pm on Saturday 15 February, 2014, when we hope a group will formally commence.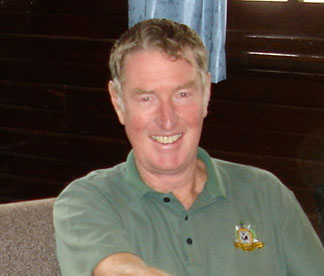 ---
Armadale Highland Gathering Contest.
17 November 2013
Pipe Bands WA ran a very successful contest at the Armadale Highland Gathering on Saturday 16 November. Congratulations to all the bands who performed at the Armadale Highland Gathering in 37 degree heat!

Grade 1 winners: WA Police Pipe Band
Grade 3 winners: Perth Metro Pipe Band
Grade 4 winners: Perth Highland Pipe Band

Well done also to the massed band with a perfectly executed cut-out! WAPOL also played for the highland dancers. Thanks to the contest supervisor, MC, judges, marshals and volunteers who made the day run like clockwork.
On the day, a piper from Fremantle Sailing Club and a piper from Perth Highland also ran in the 5km Perth Kilt Run, with both runners placing in the top 5 across the line. A piper and drummer from Perth Metro also played for the Kilt Run event, making it a long day!
Videos of all the competing bands can be seen on the Mr Christography YouTube Channel, thanks to the efforts of John Christensen.
Click the image to see the video of Perth Metro's Grade 3 Medley. Other videos are linked on this page, or see a list of all videos at Mr Christography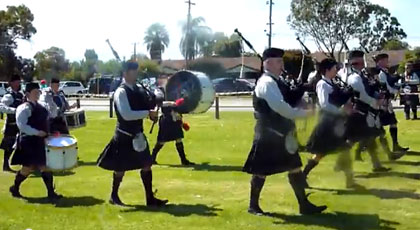 ---
Jamie Forsyth is our new Pipe Bands WA Chair.
8 September 2013
At the AGM on September 8, Jamie Forsyth was elected unopposed as the branch's new Chairman. Jamie has worked tirelessly over the previous year as Vice Chair with the portfolio of events, and has much enthusiasm for his new role in steering the branch. Jamie said, "My aim as chairman in the next year is to continue the progressive work undertaken by James Cowie and the previous Executive and to ensure that we operate as efficiently and effectively as we can. After all, I'm sure we'd love to maximise the time we have to spend it playing pipes and drums! You have my commitment that I will work hard for you and most importantly, I will work hard for Western Australia's Pipe band community."
James Cowie, who has chaired the branch for many years, was elected as one of the Vice Chairmen, along with Malcolm MacLean. A new edition to the Pipe Bands WA executive committee is James Pearse, who succeeds Raylee Riley as the Branch Secretary. Long-serving Treasurer, Peter Fallon, returns to his role managing the finances.
The College includes Lachlan Reid as VP Piping, EJ Brown as VP Drumming, Dave Witmarsh as VP Dress & Drill and Raylee Riley as VP Rules & Regulations.
---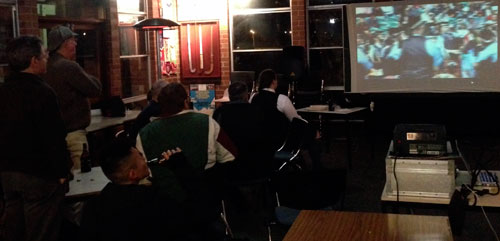 World Championships Virtual Beer Tent night.
17 August 2013
Around 40 members of the WA Pipe Band community gathered at the practice hall of Perth Highland Pipe Band to watch the World Championships streamed live from Glasgow onto a big projection screen.
After some initial technical hiccups, the crowd were soon treated to the Grade 1 heats with frosty beers, hotdogs and haggis. With it being a cold wet night, it really did feel like being in Scotland!
The crowd spontaneously cheered when they spotted anyone from WA on screen. Picture above shows Peel Regional Police with Perth Metro pipers Matt Walker and Lachlan Boath performing as guest players.
At the halftime gap between the MSR and Medley contests, members of Perth Highland kept the crowd entertained with Pipe Major Malcolm MacLean piping in the haggis for a guest address to the haggis from Pipe Bands WA piping judge, Alicia Manolas. For an Australian twist to this, a meat pie was then piped in by Pipe Sergeant Gary Macintosh, with an hilarious address by piper Phil Richardson. You can see a video of the Adress To The Meat Pie on the Pipe Bands WA facebook page. CLICK HERE to see the video and photos from the night.
The crowd was then treated to a spectacular recital on Deger pipes by WAPOL's Stuart Robertson, followed by a recital on ancient shuttle pipes by Alicia Manolas. Malcolm MacLean played a set on his Technopipes with his BagpipeStar backing music, and South West Highlanders Pipe Major, Duncan Rankine, also played a Deger pipes set.
Hopefully, we can make this an annual social event on the Pipe Bands WA calendar.
---
WA well represented at World Championships.
August 2013
West Australians were very well represented at the World Championships this year. The City of Cockburn made the epic journey to compete on Glasgow Green in Grade 4, and eyewitnesses in the stands reported that they put in a very fine performance. Cockburn made the local papers, too. CLICK HERE to read the story.
Playing as guest members of Canada's Peel Regional Police competing in Grade 1 were Perth Metro pipers Lachlan Boath and Matt Walker.
Joing the drum corps of Northern Ireland's St Laurence O'Toole band was WA Police snare, Chris Johnston.
WA Police piper Laura McMillan performed with Inveraray and District in Grade 1 and Laura also learnt Inveraray's concert repertoire too, to perform in their sell-out live show, Ascension.
And, playing in the Grade 1 World Champion band Field Marshall Montgomery were ex-WAPOL Pipe Major Alisdair McLaren, and current WAPOL piper, Scott Wallace.
Alisdair and Scott also made guest appearances in the internet meme on the World Championships. See the page here: BUZZFEED
---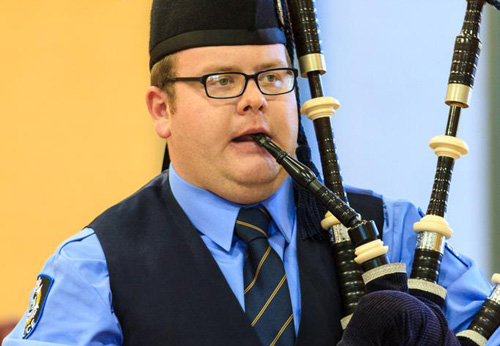 WA State Solos, June 29.
An encouraging number of contestants entered this year's State Solo Competition, hosted by North Metro Pipe Band at Mater Dei College in Edgewater. An enthusiastic crowd watched pipers and drummers compete in the various grades for the shiny trophies. To see photos of the event, visit our facebook page, http://www.facebook.com/PipeBandsWA
The results were:
Grade A Piping
1st Scott Wallace WAPOL (pictured above)
2nd Adam Britten WAPOL
3rd Laura McMillan WAPOL
Grade B Piping
1st Ron Thom Kalamunda & Districts
2nd Amelia Hewison Perth Metro
3rd Duncan Rankine South West
Grade C Piping
1st Keith Allan Perth Highland
2nd Ali MacKerron Perth Highland
3rd Tom Beggan City Of Cockburn
Grade D Piping
1st Andrew Head Perth Metro
2nd Stuart Bradford Fremantle Sailing Club
3rd Grant Benskin City Of Cockburn
Novice Piping
1st Simon Whitehouse City of Cockburn
2nd Doug Geddes Solo
3rd Adam Round Kalamunda & Districts
Veterans Piping
1st Ron Thom Kalamunda & Districts
2nd Keith Allan Perth Highland
3rd Viv Riley Solo
Piobaireachd Ular
1st Andrew Head Perth Metro
2nd Grant Benskin City Of Cockburn
3rd Simon Whitehouse City of Cockburn
Piobaireachd
1st Adam Britten WAPOL
2nd Viv Reilley Solo
3rd Ron Thom Kalamunda & Districts

Grade A Snare
1st Danny Bowles WAPOL
2nd Chris Johnston WAPOL
3rd Conor Breheny WAPOL
Grade B Snare
1st John Christensen South West
Grade C Snare
1st Daniel Bell City of Cockburn
2nd Gareth Brown Kalamunda & Districts
Grade D Snare
1st Daniel Bell City of Cockburn
2nd Gareth Brown Kalamunda & Districts
3rd Chris Deacon Solo
Grade D Tenor
1st Sue McNaughtan Kalamunda & Districts
Novice Tenor
1st Sofie Osborne
2nd Barbara Hughes
Novice Bass
1st Paul Skipworth
---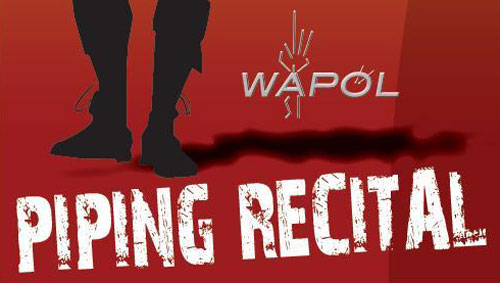 WAPOL Piping Recital, June 15.
The WA Police Pipe Band Supporters Association is presenting a Piping Recital on the 15th June 2013 at the Braham Auditorium, Trinity College starting at 7pm.

The performers for the evening will be:
· Amelia Hewison – Perth Metro Pipe Band
· Laura McMillan – WA Police and Inveraray & District Pipe Band
· Scott Wallace – WA Police and Field Marshal Montgomery Pipe Band
· James Murray – Pipe Major WA Police Pipe Band and Glenfiddich prize winner.

Tickets are $15 and will be available from the Police Pipe Band website http://www.wapol.com.au or at the door from 6.30pm. Seating is limited, so first in, best seated. For details, contact band officer Adam Britten on 9370 7183.
---

State Championships at WA University.
11 May 2013
The sun came out on cue for a brilliant afternoon at the State Championships held on James Oval at the University of WA in Crawley. The UWA Club provided free lunch for all competitors and a big crowd came along to watch the bands compete through the afternoon.
Results:
Grade 3 Champions, Perth Metro.
Grade 4 Champions, South West Highlanders.
Clips of the performances can be viewed on Mr Christography's YouTube Channel. http://www.youtube.com/watch?v=PCyHn4M0uUo
---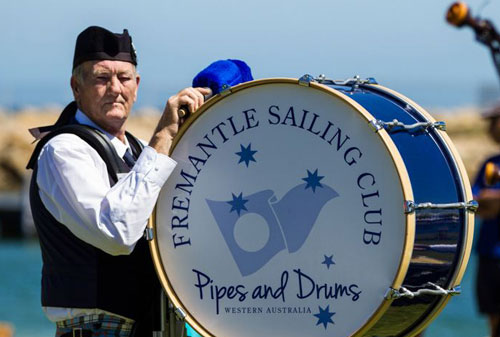 Fremantle Sailing Club puts on a good show.
25 March 2013
Pipe Major Stuart Bradford and his Fremantle Sailing Club Pipes & Drums hosted a marvellous band and solos competition at the picturesque marina in South Fremantle. The event was very well organised, right down to the trophy presentation in the alfresco beer garden with an address by the Club Commodore.
Here are the winners from the day:
Winner Grade 3 Pipe Bands: Perth Metro
Winner Grade 4 Pipe Bands: South West Highlanders
Winner Grade A Solo piping: Jamie Forsyth
Winner Grade B Solo piping: Amelia Hewison
Winner Grade C Solo piping: Amelia Hewison
Winner Grade D Solo piping: Thomas Beggan
Winner Piobreachd: Viv Riley
Winner Piobreachd Urlar: Keith Allan
Winner Novice Piping: Grant Benskin
Winner Veteran Piping: Hamish Brown
Winner Grade D Snare: Gareth Brown
Winner Novice Snare: Daniel Bell
Winner Grade D Tenor: Sue McNaughtan
Winner Novice Tenor: Sofie Osborne
Winner Novice Bass: Paul Skipworth
---
On the road again...
18 February 2013
As well as performing their duties within the Branch, W.A. College members have long been sought after as adjudicators, educators and players Interstate and beyond. Here's a snapshot of the activities your College Branch members are undertaking outside W.A. in the first half of this year:
College Branch Secretary and National Registrar Raylee Riley:
• conducting registration workshops in Tasmania in February
•Administrating at the Richmond Highland games 18th February
 VP Piping Lachie Reid:
• playing at the NZ Pipe Band Championship with G2 band Temuka 3rd March
Piping and Ensemble adjudicator Viv Riley:
• Adjudicating at the MacLean Highland Games in NSW, Easter weekend
Piping adjudicator James Murray:
• Adjudicating and recital at the MacLean Highland Games in NSW, Easter weekend
•Recital at the R.U. Brown Memorial solo piping contest in  Adelaide 4th May
VP Drumming E.J. Brown:
Adjudicating at the S.A. State Championship 18th February
•Adjudicating at the Geelong Highland Gathering 2nd and 3rd March.
---
Pipe Bands WA website is live!
14 February 2013
The new Pipe Bands WA website went live on February 14, a fitting date for this labour of love. The new site is designed as a resource for promoting piping and drumming in Western Australia, keeping players and supporters up to date with events and communications, and to help member bands promote themselves to event organisers.
The site was designed and programmed by Vice Chair of Pipe Bands WA, Malcolm MacLean. Photography for the website is courtesy of three pipers: Andrew Head of the Perth Metro Pipe Band, Malcolm MacLean of Perth Highland Pipe Band, and Jock Roarty, formerly of WA Police Pipe Band. Jock now has his own photography and web design business john-roaty.com. Malcolm has also started his own advertising consultancy and you can see some of his work here.
The site will be regularly updated and there is also a facebook site for joining the conversation, fun and feedback.
If you have any suggestions or comments to make about this website, please email Malcolm at malcolmmaclean@me.com